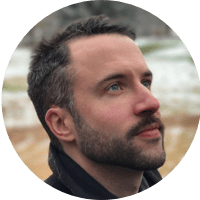 Thomas is a cofounder and Design Lead at Afterpattern.
Greg Anjewierden, Rencher Anjewierden LLC
It's easy to imagine being trapped under medical debt. Greg Anjewierden, partner at a Utah-based law firm, sees this everyday. Greg often works with people who, by a twist of fate and limited insurance, find themselves with far more debt than they could ever pay, and no legal help. "I thought to myself, there has to be a better way. If you get sued for medical debt, you deserve legal help."
Down the rabbit hole
It's no secret that most Americans feel intimidated and helpless in court. Christine Durham, former Chief Justice of the Utah Supreme Court, made this the theme of her keynote address at the Utah Bar annual convention. Greg was in the audience.
The former Chief Justice highlighted some devastating facts:
In Utah, 60-70% of lawsuits are for debt collection.

In 98% of these cases the defendant (the individual being sued for collection) doesn't have a lawyer.
As Greg recalls, Justice Durham closed her remarks by declaring it was time for bold action. Simply calling for lawyers to donate more pro bono hours would never be enough, because the size of the problem was so large that the math of increased pro bono hours didn't add up to a solution. "That's when the idea clicked for me", says Greg, "what if there was an app for this? That's when I started down the rabbit hole.
DebtBrief is born
DebtBrief is a website for people who've been sued for debt collection. If you find yourself in that precarious situation, and you don't know what to do and you can't afford a lawyer, you can use DebtBrief's online questionnaires to learn how to defend yourself and assemble the documents required. For example, DebtBrief can help you submit an Answer to protect yourself against a default judgement. It can even guide you on the process of negotiating your interests with your creditor.
DebtBrief was launched in December of 2018 and it is still a relatively basic resource, but Greg has big plans for how DebtBrief can grow. "The plan is to grow to accommodate a network of attorneys so that you can take the forms that DebtBrief helps you assemble, find a lawyer, and receive a personalized legal plan."
Building a document assembly app
"From the moment I had this idea, I knew what I wanted the app to do" says Greg. "The problem was that I didn't know how to build an app."
Greg decided that his first step in building DebtBrief, which would be a software tool, should be to speak with a software engineer. "They told me they could do exactly what I was looking for, but it would cost me $25,000. I didn't want to spend that kind of money on an idea I didn't know would work… so the question became, can I build a prototype myself? And that has definitely been a challenge."
It's difficult to justify an expensive, early-stage prototype, because in most cases it's not only unnecessary but ill advised. Rapid and affordable prototyping has always played a big role in tech entrepreneurship. This should be true for legal tech as well.
Rapid and affordable prototyping is typically accomplished in the following ways:
Relying on your labor to build something from scratch; and / or

Relying on off-the-shelf products.
The App Builder is a combination of both.
"It was a revelation when I discovered Afterpattern."
With Afterpattern, Greg is able to create branching logic questionnaires that assemble documents, send emails, or simply provide information. "I don't have any programming experience" says Greg. "Afterpattern has been a big help. Things definitely sped up when I found it."
Following passion
"I'm a medical malpractice lawyer and I'm a partner at my firm. I have a good job; there is no apparent reason for me to start this other company. But it felt like a calling... This may sound weird, but this is something I feel I am meant to do."